August 2, 2013 Philippines MTC

Dear all y'all,
I am now officially part of the graduating class here at the MTC! It's so incredibly hard to believe that I'm about to go out into the field soon. I have to say I feel a lot more prepared than I did when I first came here. Like, I no longer get nervous during the investigator lessons, and can (sometimes) speak rather fluently to my investigator, and seldom can I not understand him or her. In fact, the investigator lessons are the best part of my day. Last Wednesday the class above us left. I got really emotional, because they have all definitely helped me out here, and have provided inspiration that I needed. Plus, the new missionaries aren't as good at basketball as they are. meh. I'm close to all of these missionaries:
This is a picture of the two Filipino roommates I had, along with my companion. They have now left.
I think I should mention that my companion reminds me of Bro Toiaivao more and more every day. Honestly, we work very well together, and I think I have the best companion in the mission. I really do.
We had a Q&A with the MTC President the other day in respect to going out in the field. Turns out that we're not allowed to eat balut!
balut: image from: http://www.bubblews.com/assets/images/news/639488692_1369079238.jpg
Too many missionaries have gotten sick from it, as well as many other foods we've found. I must admit, I'm slightly disappointed. He also gave a huge monologue about what goes on in the body when people don't drink enough water, or when we drink bad water or street food--I think we all got the picture. I'm going to try my best to be healthy! I'm extremely blessed to have not been sick thus far here. I'm part of one of the few companionships that haven't gotten sick. In fact, just the other day my companion Elder Langi and I were the only ones who were able to show up for class; all of the sisters were either sick, or their companions were sick.
Last Wednesday was quite possibly the most exciting day of my life. I went proselyting for a few hours! I got the wonderful opportunity to be with one of the zone leaders who was from Austrialia. He had been out for a year, and he spoke flawless Tagalog. He gave me a lot of advice in both English and Tagalog. He gave me a rundown of what our schedule was supposed to be for the next few hours:
1. Teach a counselor in the branch presidency the importance of going to church. I was supposed to teach it all.
2. Teach a 16 year old the importance of going to church.
3. Teach a drunkard the word of wisdom.
Turns out, only the first contact was there. I was so nervous! It was about 90 degrees in his house. My companion would literally say like five words, and then look at me again. I think I got my message across, though. There were actually some words I knew that the counselor didn't! Most people speak a combination of English and Tagalog here. Our contact said he was very impressed with my Tagalog, and that he would read the Book of Mormon daily. I left that appointment feeling good.
It took us a while to find somebody else to teach, but we found a lady, who was in her 40s, and single. Unlike my previous lesson, I only said the prayer, because I, in all honesty, was completely shocked. She talked about her life and her hardships, and her family, and her relationship with God and how she needs help. She was a goldmine for any missionary! The only problem was that she said she had an angelic manifestation, and that the devil tried to choke her. Because of that, Elder Atwood took over the lesson. I was a most captive audience-- lemme tell ya. I couldn't believe what I was hearing!
The environment where we taught the two investigators was unbelievable. There were wires all over our heads, and people scrambling around all over the place. No paved roads, just rocks and dirt. No street signs either. But, the eyes of the people I saw were amazing and beautiful. Everybody always looked so happy to see us, even though they were living in the worst of circumstances!
One lesson I asked a MTC leader to come along as a member-present. Basically, because the MTC schedule changes constantly, we had to reschedule FOUR WHOPPING TIMES! In the end, we got his wife instead, which was just as good. Honestly we never get into the lesson as much as we want to, because we always end up discussing other things. So usually everything I try to memorize goes out the door. Often times, I have five minutes to prepare. bleh.
I got to ride in a sidecar with my companion, while my teacher (who tagged along as a member-present) rode behind the driver of the motorcycle. I have never felt so cramped in my life! I had to lean forward while they leaned back. I actually got my shirt extremely dirty.
My companion, at one point, gave me a smile and said "we're taking a shortcut." Basically, we went down an alley-way that was about a foot and a half wide for about 400 hundred feet. It was so awesome! I felt like I was in the dark and dreary mist in the tree of life vision--haha. It didn't help that it was pouring rain the entire time I was proselyting.
On a lighter and cleaner note, I ate this awesome, awesome, awesome fruit called rambutan!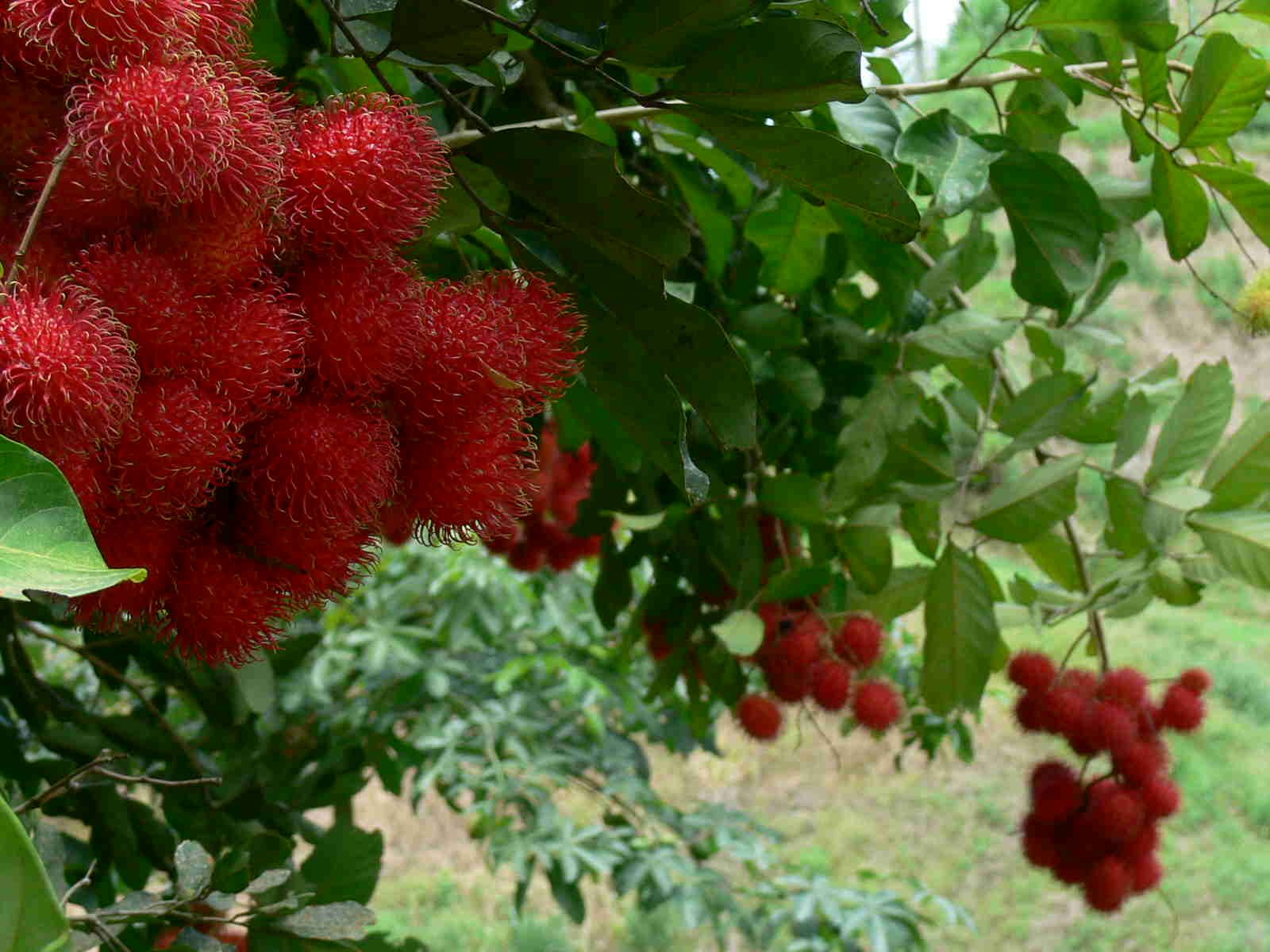 http://www.rambutan.com/P1000594Copy1main.jpg
It was most delicious! It looks like an alien head, but you crack it open, and it has this gel-like texture, and tastes so sweet! In all honesty, almost all the Filipino food I've tasted here tastes surprisingly good. My President warned us in the Q&A that a lot of missionaries run out of the stripend (which is 6000 pisos I think) because they love eating out all of the time. Check out the price of the cherries.
These are some missionaries on their p-day from quezon city who we ran into at the store.
My favorite scriptures right now are
"If any man will
do
his
will
, he shall
know
of the doctrine, whether it be of God, or
whether
I speak of myself." John 7:17 and
"
Now when our hearts were depressed, and we were about to
turn
back, behold, the Lord
comforted
us, and said: Go amongst thy brethren, the Lamanites, and bear with
patience
thine
afflictions
, and I will give unto you success." Alma 26:27
For some reason I thought our MTC teachers were overemphasizing that each investigator has needs in their life, and they're willing to share them with you. I realized then and there how much the people in Manila need direction in their life. Since then, I've devoted so much more time and energy to working to learn their language. Thank you for the scriptural insights, Mom, especially the oath and covenant ones I needed those. I'm running and not being weary :D
Love,
Elder Thurber